In a game that was as tough as any knowledgeable college basketball fan expected, the Alma Mater advanced to the Elite Eight for the first time in during the 64-team era with a 60-55 win over Xavier.
What has to be scary for any Pitt opponent is that the Panthers have to play a good game in the tournament. It's going to take their first truly spectacular effort in the Round of Eight against fellow Big East foe Villanova.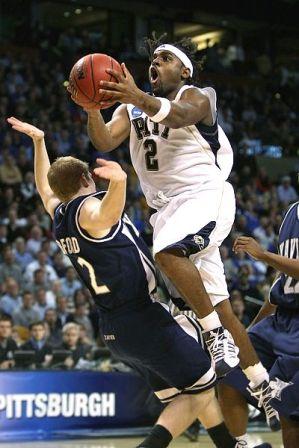 More broadly, this has to be so gratifying for anyone associated with the program – athletes, coaches and the fans. For years, I've had to hear "but they can't get past the Sweet Sixteen" from the naysayers. I'm not a huge fan of assessing a program's place in the hierarchy simply based on success in a one-and-done tournament but that's an issue for a different day.
It seems clear this team has been been tight in the first three rounds but now, I think they can finally start playing free and loose. And I just love that when asked about the impact of this win, Levance Fields responded, "It kind of gets the monkey off our back. But we came here to win two games."
Photo Credit: Elsa/Getty Images