Detroit, Michigan is NOT Hockeytown!! I'm so tired of this self-appointed title. Although its sports fans support the Red Wings well and the franchise is currently the gold standard for NHL teams, it isn't Hockeytown.
That title is and likely always will belong in Montreal. Plan and simple – 23 Stanley Cup titles for the Canadiens to go along with an outrageously passionate fan base. Detroit has 11 Stanley Cup titles. I worked in Detroit for close to a year and let me tell you that the fanbase there is not nearly as rabid as anything I've read about Montreal's.
Detroit is possibly the most well-rounded sports city in the North America. It has strong pro franchises in basketball, baseball and of course, hockey. It pulls weight in college sports with nearby Michigan State basketball and UMich football. So I think it's understandable that its denizens get pulled in multiple directions at once. This blessing is simple not conducive to building the same over-the-top passion as Montreal or even Toronto.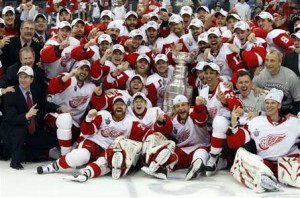 The Red Wings (and a couple other teams) have passed the Canadiens in terms of performance but that doesn't mean that those cities can match Montreal's fervor or passion for this one sport. Montreal is Hockeytown.