* I was all set to write a post about how Arizona should know its place in the college basketball world and that despite its past history, Arizona shouldn't mentioned in the same breath as UCLA, UNC or Kansas anymore. After all, Mark Few, Jamie Dixon, John Calipari and Tim Floyd had already rejected the Wildcats' advances.
Then they go out and get Sean Miller. Way to step up to the plate, Jim Livengood. Miller is a fantastic coach; he'll do well out there. He's just the guy to transform Arizona from a school defined by its legendary coach, Lute Olson, into a school that defines its head coach.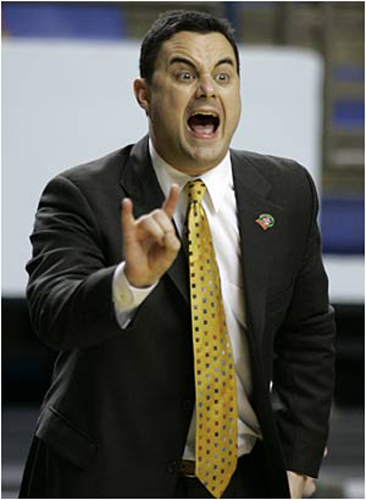 * Note to all those arrogant Dukies though – you are a Coach K move away from becoming Arizona. Duke was ok before Krzyzewski arrived in Durham but they're obviously off the charts with him. As I've stated before, there's no reason to believe that Duke has a "right" to be part of college basketball royalty. Even UCLA had some lean years post-John Wooden. Ultimately, schools like Arizona or eventually Duke will have to transform from being defined by a coach to being defined by the program.
* I really came to respect Tom Izzo's considerable coaching abilities last year when his Spartans took out Pitt in the NCAA Tournament. Let's face it – that was not his best team and Pitt was on a roll after winning the Big East tournament. I would honestly consider him among the top 5 major coaches out there, alongside Roy Williams, Rick Pitino, Jim Calhoun and Mike Krzyzewski.
I'm leaving my alma mater's last two coaches, Jamie Dixon and Ben Howland, off the list because titles are the name of the game. All the coaches on this list have reached the summit. But I honestly believe Izzo is one of the few coaches out there who could step up and compete in the Big East.
* A good friend of mine at Duke recently got very excited that Seth Curry is transferring from Liberty to Duke. Like most single-mindedly, self-absborbed Duke 'fans', he decided to trumpet this event to me in the middle of my misery over the Pitt loss. Now that I'm somewhat more clear-headed, I have to say – whoop dee doo! Just what Duke needs; another jump shooter. Nope, not a big or a banger. Another skinny little kid for Duke's dribble-drive, kick-it-out offense. Curry is a great player but he couldn't have banged with the big dawgs in the Big East.