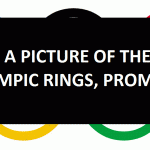 I love the Olympics, both summer and winter. Swimming, beach volleyball, athletics, skiing, snowboarding, curling. Curling! I mean, what a fraking awesomely absurd sport. It's shuffleboard on ice! With brooms! I can't stop watching when it comes on.
But that's what works about the Olympics. Sports. Competition. The thrill of victory and the agony of defeat. (Unless you're talking Pitt sports in which case, you're Comfortably Numb). The rest sucks. All those fluffy human interest pieces, tales of overcoming adversity, yada yada yada. I can do without it all.
But more importantly, the whole 'business' of the Olympics is rotten to the core. From the IOC to the way the host countries prostitute themselves to the way that they railroad their citizens in preparation for the games even to the treatment of Sochi's stray dogs – it's disgusting.
There is no denying the spectacular opening ceremonies at the Beijing Games in 2008. And I can still remember the arrow being shot over the huge Olympic torch to light it up at the 1992 Barcelona games. But do we need it? Do we need the glittering Olympic villages and all the amenities. Did costs for the Sochi games really have to eclipse $50,000,000,000 (that's $50+ BILLION!).
Venues and housing need to be built and security and transportation must be upgraded in order to host an Olympic games. Those real and necessary capital improvements are nothing to sneeze at but it should be a simple matter to host the games. It should certainly not devolve into a brazen display of nationalistic one-upmanship  and trying to look purrty and pounding your country's chest. Let the athletes do that trash talking.
I honestly don't think I'm tilting at windmills here. I'm not even particularly excised about the costs of the Olympics. Overruns happen on capital projects. It's the decadence and sleaziness that now seem to be associated with the event. Not the athletes or the contests themselves. The administrative and nationalist aspects. The show-biz, the glitz, the glamour. That's not the true spirit of the Olympics. It shouldn't be big business.